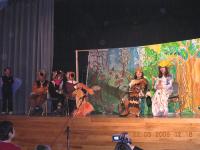 Goal and objectives of the project
The overall aim of the project is growing up of kids and youth awareness about importance of environment protecting through implementing of theater performance.
Specific goals are:
Growing up of awareness for protecting and appreciation of water
Growing up of awareness for protection of trees
Growing up of awareness for protection of animals
Growing up of awareness for applicable use of raw materials and final products garbage and rising of people awareness that nature will multiplied give us back if we have regularly behave to her, which will contributes for reaching better life quality
Methodology and strategy
Our methods are directed in work with kids in preparing of theatre performance and elaborating of leaflets and posters. There are few workshop leaders worked with kids. Their methodology is direct, most of all teamwork. All methods are in favour of finding best messages and actions how to impact to kids awareness, as members of workshops such as of watchers of performance.
Achievements/Outcomes
In first phase Project is implemented in total. All planned activities are done on time. Activities were implemented as follows:
Ecology workshop
Leader Milica Ceperkovic (professor) worked with 30 kids at age of 12-13 in YC.
First they targeted environment problems in the world, Serbia and Vrnjacka Banja.
Second phase is doing individual and group drawings and messages
Third phase is creating draft for pamphlet and poster
Fourth phase is creating of questionnaire for evaluation
Fifth phase is distribution of pamphlets and evaluation forms to all kids who watched performance
Theatre workshop
Leader Nela Spasojevic (professor) worked with 20 kids-actors at age between 6 and 13.
First step is reading of text and determination of roles
Second step are theatre workshops 2 times weekly 4 months in Youth center
Third step is general preparations for performance, 5 times in big space with stages and costumes
Recording of performance 21.03.2005
Presenting a performance 22.03.2005 in Big congress hale of Zvezda hotel for 1100-1200 kids from Primary school with their teachers. Performance watched also representatives from local community: municipality ecology and communal inspectors, municipality representatives for school, youth, sport and culture, representatives from public communal firm "Beli izvor", such as two representatives from REC
Second performance our actors performed for kids from Kindergarten "Radost" in Congress hale of "Thermo mineral bath" in Special hospital. About 200 kids and 15 teachers were nice surprised and interactive participated in the performance.
Other
Leader of design workshop, Ivanka Milosevic voluntary involved her in order to support realization of performance. She gathered young talented artists and worked on designing of stages and masks.
Our volunteers Svetlana Trifunovic made costumes for actors.
Ivan Makojevic made music arrangements for performance, but also Nela Spasojevic add new music items and finalized performance.
We had good cooperation with our partners. Primary school "Popinski borci" showed excellent cooperation. Director Dragana Bocanin organized animation of pupils and teachers to come and watch performance. Also teachers did efforts to distribute evaluation forms to their classes, gathered filled ones, and sent to Youth center for analysing. Second partner Public Communal firm "Beli izvor" showed interest about our project realization, director Branislav Sarcevic followed up our activities and gave us suggestions for further work of ecology workshop. He recommended us to involve our ecology members in public actions for cleaning woods from insects, which make enormous damages. Also he showed good will to give up one part of ground for our ecologists to work out it and recommends planting some health herbs.
We made good contact with local community and meet their understanding. From Special hospital we got space to use 1 week for every day exercising of theatre group, from Hotel Zvezda we had permission to organize our performance in congress hale for free. We informed municipality about our project activities and they showed grate interest for ecology. Ecology inspector Gordana Radicevic offered us to work with them on further projects.
Products Developed and Available at REC
Theatre performance "Crvenkapa" as very famous and interesting fable kept kids attention at high level. This fable is changed in order to make influence to kids' mind and increase their awareness for protecting life environment. Young actors in performance send strong messages for protecting of environment, specified as: "Keep waters clean", "take care about trees in the wood – don't cut them", "take care about animals – live with them", "don't put the garbage on the river banks, on the fields and forests".
For these performance we designed 3 drawings on material as stages, costumes for actors (2 wolfs, a fox, 2 rabbits, 3 butterflies, a bear, an owl, costumes for red-hat girl, hunter, nature, judge, and other necessary equipment for surrounding.
We printed 5000 pamphlets and 600 posters. Pamphlets we use for presentation of the project to all important structures. Also we distributed to all kids and teachers from primary school in order to keep their impressions from performance. For first performance in Vrnjacka Banja we used 1200 pamphlets and 40 posters.
Performance is recorded. We produced masters for VHS and DVD, and multiplied 100 VHS cassettes and 150 CDes. The aim is to distribute to schools, kindergartens and kids TVs through Serbia. Also we already did a distribution of samples to our actors, workshop leaders and to President of our municipality, JKP "Beli izvor" as our partner Primary school "Popinski borci" and Kindergarten "Radost".
Presented theater performances
Performance "Crvenkapa" was is presented in Vrnjacka Banja 22.03.2005 in Big congress hale of Zvezda hotel for 1100-1200 kids from Primary school "Popinski borci" and for their teachers.
Second performance our actors performed for kids from Kindergarten "Radost" in Congress hale of "Thermo mineral bath" in Special hospital in Vrnjci Spa. About 200 kids and 15 teachers were nice surprised and interactive participated in the performance.
Next performance was done 06.06.23005 in Trstenik in Sity theater for about 400 kids from Primary schools "Zivadin Apostolovic" and "Miodrag Cajetinac Cajka".
In Kraljevo actors performed "Crvenkapa" 15.06.2005 in the yard of Primary school "Cibukovaki partizani" for 250 kids at age between 7 and 11.
In October, 21.10.2005 we were guests of the Primary school "Slobodan Sekulic" in Uzice. Young actors acted two times for their agers, 400 pupils of this Primary school.
7. November. 2005 performance is presented to 140 kids from kindergarten "Bambi" in Kragujevac.